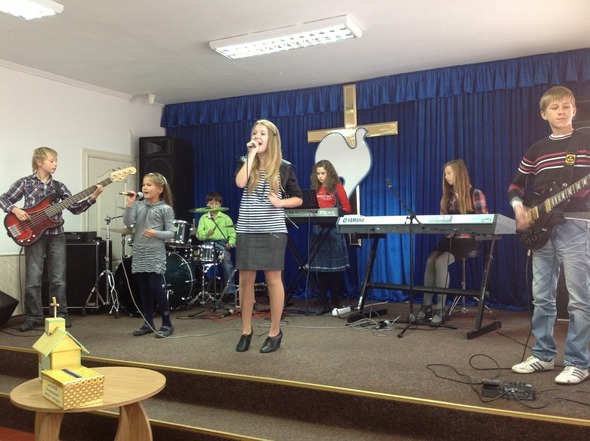 13 Nov

More Ukraine – October 2012
Back in Ukraine, we continued to travel. Our visit to Krinichki, a small town near Dnepropetrovsk (try to pronounce THAT one!!), a major city in Ukraine. The Dektar family you see is one of the best examples of family unity that we have ever seen. They willingly help each other without being asked!! Their older son Sergey (on the left) was married a few days after we left and we got to help as they decorated the church for the event. All that material had to be ironed!! But it was a fun event.
Mama Vala has a huge flower garden behind the house, raising chrysanthemums of all colors and shapes which she was cutting to sell. She has hundreds of tulips in the front yard, which she sells in the spring.
Kahovka is near the cfity of Kherson. Pastors Sergey and Lena are recently fellowshipping with us in Koinonia. We knew Sergey many years ago when he was quite young. It is nice to get reconnected.
Just have to show you a typical lunch table in Ukraine…….we usually eat after leaders meetings so we can talk and perhaps minister to them personally.
In Kalanchak, down by the Sea of Azov, Victor and Svieta started this church almost twenty years ago. They were VERY young then. This 3 generation photo shows Victors parents on the top row, who were faithful pastors in the underground church and still pastor today, then Victor and Svieta. Their children Christine and Mark are in front of them. This is a wonderful testimony of generational faithfulness, which is a desire of all who are in ministry. May we all be willing to live what we believe.
This "kids" praise and worship team, who ministered during offering time, is the first we have seen in Ukraine. They played and sang very well for their ages.Christine and Mark are both participating.
Alexi and Anya with their precious family, live in Kiev area. Their children are learning the Word of the Lord every morning on the way to school. What a wonderful way to use travel time.
In Chernoftsy, taking a day of rest with pastors Andre and Ira, we enjoyed the fall colors. When the wind blew, we had leaf blizzards but it was hard to catch on film. The sign posts behind us show directions to many cities! This town is on the border with Romania, and close to Europe so the architecture here is more European. The church is in a a growing stage, which is a big Hallelujah!!
This is Ira Iaremchuk who has been Randy's interpreter for 3 years. She will be working more and more in the office and traveling with us too. She is a faithful young lady from the church in Zhitomir and they send her to us with their love and blessing. Thank you Pastors Sasha and Ira Dektaryenko. (You can see that Ira is a common name in Ukraine!)
Thank you for praying for us and sending us to Ukraine and Israel to bless others. Just imagine the host of people you will know when you get to heaven!! Smile!!
Randy is in Ukraine right now with Youth Culture meetings, youth leader hang outs, and a trip to Naples, Italy. Pray for him, too.
We love you and bless you,
Rick and Bette Strombeck