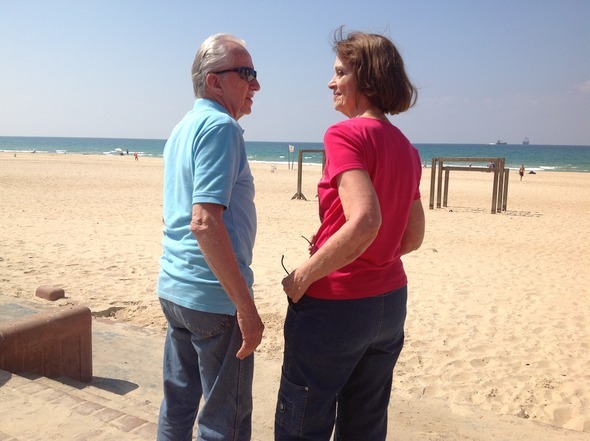 23 Oct

ISRAEL October, 2012
Some interesting notes from our recent trip to Israel. First stop, Bat Yam, near Tel Aviv. Max's daughter Alisa, got home for a day from the Israeli Army where she serves. Finishing basic training with the top female honor, she decided to go to commander school, too. At that ceremony, the General asked her father to reveal her new rank instead of himself. Her dad is holding the fifth commendation for valor so far. Two were for stoping a car theft ring and ambushing a drug deal. Wondering how she was in the right place at the right time, we reminded her it was the Holy Spirit in her. She has 20 young men under her command…an interesting technique in their Army for teaching obedience. Of course Rick had to look at the weapon up close!!
Next stop, O Little Town of Bethlehem …..but it is not small…about 1/4 of it. We are in a pizza place looking out the window and the 24/7 prayer house we visit is just below. There were people from 5 nations that day, Zimbabwe, South Africa, Guatamala, Ukraine, and USA. Rick is prophesying over Vicky from Zimbabwe. Since Bethlehem is Palestinian, it is quite unusual for it to exist!
Lisa Bourland, in pink, is the founder of the prayer house. She and her husband pastor a church in Ky. Its a miraculous open door she has in the community. We met her in Kiev five years ago when she was helping an orphanage. God has her in amazing strategic places. With her is Katia, our interpreter for this trip.
The Lord gave us a great view of the Mediterranean and a constant warm breeze with our hosts Vasili and Luda in Ashdod. It was a wonderful base. They finished the School of the Spirit in Kiev before they immigrated. They have been back for a Youth Culture as well. We see the hand of the Lord in this new friendship for connecting our Youth!!!
Our dear pastor friend Simeon, who pastors in the most difficult town, Arad, is leading the praise and worship. He has been persecuted a lot but continues to be patient and caring. It is an awesome witness. He was made aware not long ago that there were secret believers and not everyone hated him!! That brought great joy!!
He took us to the Dead Sea, not far away, where we breathed that salty air!!!
….more to come about Israel. We received a whole new depth of understanding about the spiritual needs. They do need our prayers, that's for sure.
Thank you for partnering and praying with us for Israel. We have an amazing opportunity to stand by them as everyone is turning away. They need a lot more "Alisas" to be in the right place at the right time AND in strategic places. The youth are important everywhere. Visit our website Koinonia.kiev.ua. Then Youth Culture.
We love you and bless you.
Rick and Bette